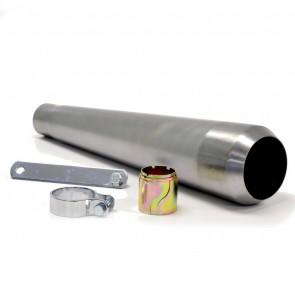 MegaBare exhaust silencers
MegaBare exhaust silencers
MegaBare Cafe Racer exhaust silencers. Glorious straight through sound, no baffles!  Pair of Megaphone reverse cone silencers finished in raw steel. These are similar to Megatons but featuring fully welded and smoothed shorter end cones with wider outlet. 
No baffles so not really suitable for road use. 
Supplied in raw steel, so an ideal solution if you need to further modify them such as welding new brackets and lugs, painting, coating or plating to the finish of your choice.
It measures 17" (431mm) in length, it accepts header manifolds of 1 3/8" to 1 3/4" (35mm to 44.5mm) using the supplied adaptive collar sleeves. Complete with an universal adjustable bracket. 
OBS: Please note that these silencers are universal fit. If fitting to the BMW exhaust manifolds, additional sleeves made of thin material (ie@ alloy strip) may be required for a perfect fit. The supplied adjustable brackets can be easily adapted and altered to suit many different frames but for a a more discreet fit, custom made brackets may need to be fabricated. Please do contact us for more details and advice.
Reduced clearance around the original BMW rear brake pedal, further adjustments may be required.
IMPORTANT: These exhaust silencers are quite noisy (straight through - no baffles!)  in comparison with the originals. If you wish to purchase something more subdued, please check our MegaTons which have a similar shape and can be re-packed, if required. We do sell a suitable mat (35cm wide x 1mt long) which is enough for a pair of silencers. Please check our other listings
Very well made, finished and outstanding value for money. The loudest traditional Cafe Racer megaphone silencer you can probably get. 
Good looks, noise and poise.
Sold as a pair.