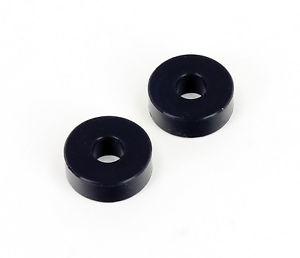 Headlight rubber spacer washers - pair
Headlight rubber spacers
Headlight rubber spacer washers - pair
Headlight rubber spacer washers - pair.
Fits between the headlight and the headlight brackets.
Very useful to reduce abrasions and unwanted vibrations.
Dimensions:  
28mm external diameter x  10mm thickness 
10mm inned bolt hole/diameter
Very useful thick rubber spacers, which will reduce unwanted vibrations and abrasions for the headlight, giving a more positive and steady fit
Especially recommended when fitting different headlight brackets to the BMW models with smaller headlights such as the BMW /5 (6.5" headlight) and the later R45/65 and R80 ST (7" headlights).