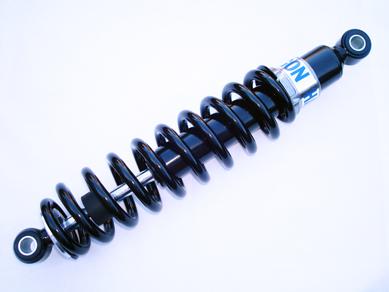 Hagon Mono R standard shock absorber - BMW K series (83-96)
Hagon Mono R shock - BMW K series
Hagon Mono R standard shock absorber - BMW K series (83-96)
Hagon Mono R standard shock absorber - BMW K series (83-96)
The Hagon Mono R standard shock absorber was specifically designed as straight replacement of the original shock fitted to the BMW K series (K289) including the K100, K75, K1 and K1100 models built between 1983 and 1996.
It features a 28mm black sealed damper unit, offering 3 position pre-load adjustment. 
Black powder coated spring, complete with adjusting spanner and end fitting bushes. 
Excellent performance and unrivalled value for money. Comes with a 2 year unlimited mileage guarantee. 
It will fit all model variants of:
BMW K100
BMW K75
BMW K100 16v
BMW K1
BMW K1100
IMPORTANT: Please state your bike model and year at the checkout