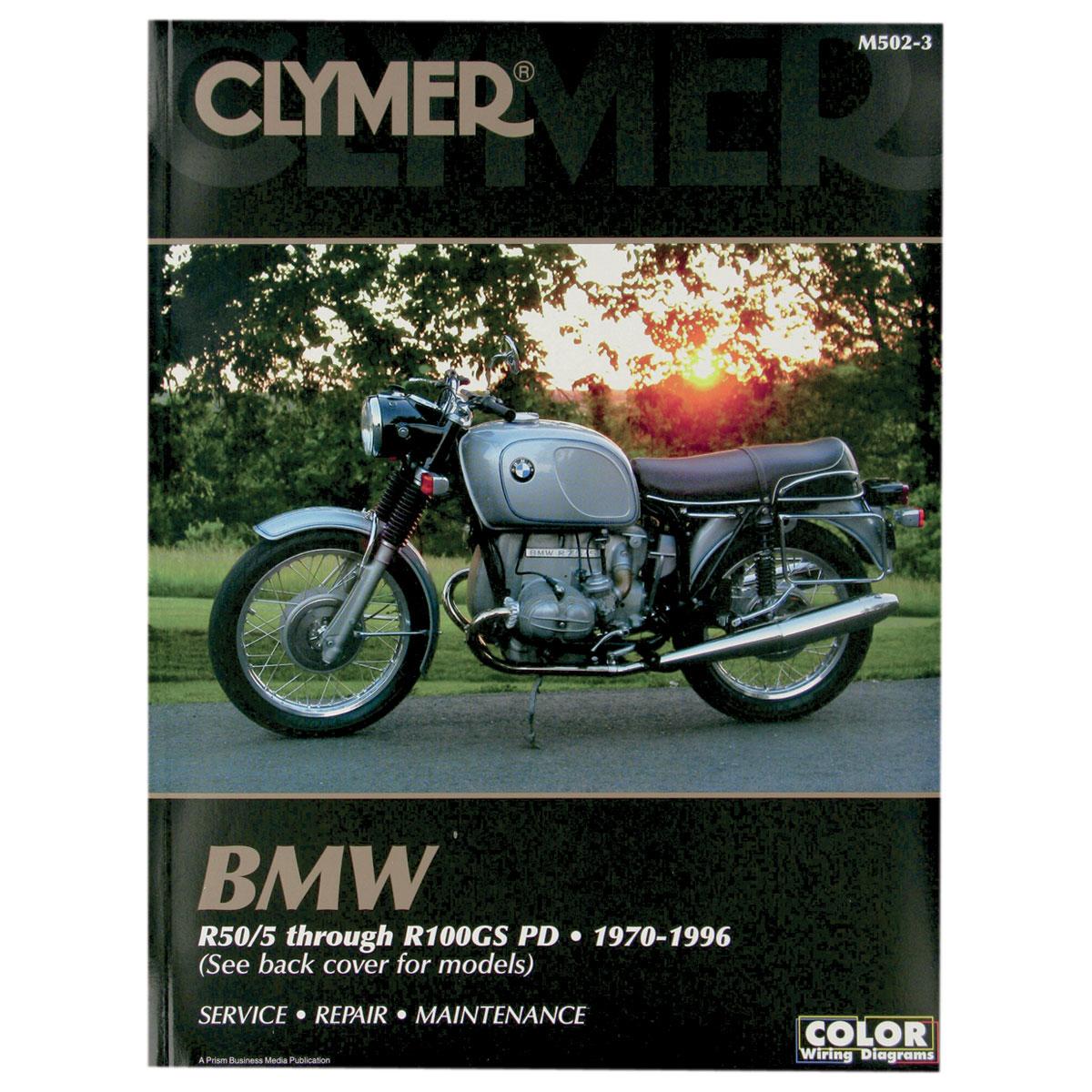 BMW R2v Airhead Boxer Clymer workshop manual
BMW R2v Airhead Boxer Clymer workshop manual
BMW R2v Airhead Boxer Clymer workshop manual.
Pretty much covers ALL BMW Airhead Boxer models (1970-1996) including the GS models. 
Very possibly the best workshop manual for these bikes, with comprehensive repair guides and many up close photos. It is invaluable to us (along with the rarer factory manuals and parts guides) and for many other professional workshops and home mechanics who wish to do their own maintenance and repairs.
It includes the very useful electrical diagrams for the most common models.
Each Clymer repair manual provides step-by-step procedures based upon the complete disassembly of the machine. This hands-on experience combined with extensive research results in a manual that is both user-friendly and detailed. Hundreds of original photos and illustrations guide the reader through every job.
 Inside:
CHAPTER TWO
TROUBLESHOOTING
CHAPTER THREE
LUBRICATION, MAINTENANCE AND TUNE-UP - Maintenance intervals / Engine oil / Control lever lubrication / Drive belt deflection and adjustment / Engine mounts and stabilizer / Tune-up / Engine rotation / Air filter / Compression test / Ignition timing / Valve clearance / Secondary camshaft chain tensioner / Spark plugs
CHAPTER FOUR
ENGINE TOP END AND EXHAUST SYSTEM - Cylinder head covers / Camshafts and drive gear / Cylinder head / Valve tappets and shims / Valves and components
CHAPTER FIVE
ENGINE LOWER END - Removal and installation / Oil pan and oil pickup strainer / Oil pump / Oil cooler / Oil filter mount / Crankcase / Piston and connecting rod / Piston and rings / Connecting rod / Balance shaft / Crankshaft / Break-in
CHAPTER SIX
CLUTCH AND EXTERNAL SHIFT MECHANISM - External shift mechanism / Clutch cover / Clutch master cylinder / Clutch release cylinder / Hose replacement / Clutch flushing / Clutch bleeding
CHAPTER SEVEN
TRANSMISSION AND INTERNAL GEARSHIFT MECHANISM - Bearing replacement / Output flange / Internal shift mechanism
CHAPTER EIGHT
FUEL AND EMISSION CONTROL SYSTEMS - Air filter housing / Fuel tank / Fuel filters / Fuel pressure test / Evaporative emission control system
CHAPTER NINE
ELECTRICAL SYSTEM Battery - Voltage regulator / Alternator rotor and stator / Ignition system / Starter / Solenoid / Relay / Lighting / Instrument cluster / Speedometer, tachometer and indicator panel / Vehicle speed sensor (VSS) / Turn signal module, turn signal security module and hands-free security module / Horn / Switches / Fuses / Handlebar wiring replacement / Wiring diagrams
CHAPTER TEN
COOLING SYSTEM - Oil cooler oil line fittings / Oil cooler
CHAPTER ELEVEN
WHEELS, TIRES AND DRIVE BELT - Front and rear wheel / Hubs / Driven sprocket / Drive sprocket / Drive belt / Inspection / Wheel truing / Tire changing / Vehicle alignment
CHAPTER TWELVE
FRONT SUSPENSION AND STEERING - Handlebar / Front fork / Fork lock / Steering head and stem / Steering head bearing races
CHAPTER THIRTEEN
REAR SUSPENSION - Shock absorbers / Swing arm
CHAPTER FOURTEEN
BRAKES - Front and rear brake pads / Front and rear brake caliper / Front and rear master cylinder / Brake line replacement / Brake disc / Brake bleeding / Brake pedal
CHAPTER FIFTEEN
BODY AND FRAME - Rider seat / Passenger seat / Frame side covers / Air filter housing cover / Front fender / Rear fender / Drive belt and debris deflector covers / Radiator cover / Foot rests / Centre stand / Windshield / Wind deflector
COLOR WIRING DIAGRAMS