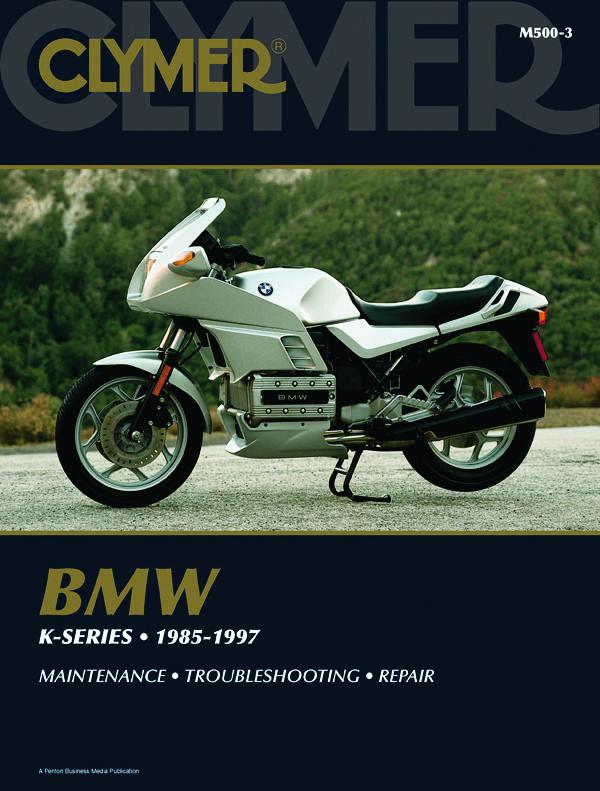 BMW K series (83-96) Clymer workshop manual
Clymer Manual - BMW K series (83-96)
BMW K series (83-96) Clymer workshop manual
BMW K series (83-96) Clymer workshop manual
Pretty much covers ALL BMW K series models (1983-1996) including the K100, K75, K1 & K1100 models. 
Very possibly the best workshop manual for these bikes, with comprehensive repair guides and many up close photos. It is invaluable to us (along with the rarer factory manuals and parts guides) and for many other professional workshops and home mechanics who wish to do their own maintenance and repairs.
It includes the very useful electrical diagrams for the most common models.
Each Clymer repair manual provides step-by-step procedures based upon the complete disassembly of the machine. This hands-on experience combined with extensive research results in a manual that is both user-friendly and detailed. Hundreds of original photos and illustrations guide the reader through every job.
This BMW K-Series Motorcycle Manual is 744 pages!


QUICK REFERENCE DATA

CHAPTER ONE / GENERAL INFORMATION
Manual organization / Notes, warnings and cautions / Safety first / Service hints / Special tips / Torque specifications / Fasteners / Lubricants / Expendable supplies / Parts replacement / Serial numbers / Information labels / Basic hand tools / Test equipment / Mechanic's tips / Riding safety / Specifications

CHAPTER TWO / TROUBLESHOOTING
Operating requirements / Emergency troubleshooting / Engine starting / Engine performance / Engine noises / Excessive vibration / Front suspension and steering / Brakes

CHAPTER THREE / LUBRICATION, MAINTENANCE AND TUNE-UP
Pre-ride inspection / Routine safety checks / Service intervals / Periodic lubrication / Engine oil and filter change / oil pump filter screen and oil pan cleaning / Transmission oil change / Clutch and input shaft spline lubrication / Final drive oil change / Fork oil change / Control cable lubrication / Periodic maintenance / Clutch adjustment / Camshaft chain tensioner adjustment / Air filter service / Fuel filter service / Cooling system inspection / Coolant change / Steering head adjustment / Speedometer sensor cleaning / Tune-up / Valve clearance adjustment / Ignition timing / Compression test / Spark plugs / Fast idle adjustment for cold starting / Idle speed adjustment / Specifications

CHAPTER FOUR / ENGINES
Removal installation / Crankshaft cover, cylinder head cover and timing chain cover / Camshafts, timing chain and chain tensioner / Cylinder head / Valves and components / Oil water pump / Intermediate housing / Starter clutch and gears / Oil pan, lower crankcase half and output shaft / Pistons and connecting rods / Crankshaft / Cylinder block / Break-in / Specifications

CHAPTER FIVE / CLUTCH
Clutch release mechanism / Clutch cable / Specifications

CHAPTER SIX / TRANSMISSION AND GEARSHIFT MECHANISMS
Housing / Transmission shafts and gearshift mechanism / Specifications

CHAPTER SEVEN / FUEL INJECTION SYSTEM, EMISSION CONTROLS AND EXHAUST SYSTEM
Depressurizing the system / Fuel injectors and fuel supply pipe / Throttle housing and intake manifold / Pressure regulator / Air flow meter / Fuel injection control unit / Throttle valve switch / Air filter case / Throttle cable / Choke cable / Fuel pump / Fuel filler cap / Fuel tank / Fuel gauge sensor / Fuel level sender / Crankcase breather system / Evaporative emission control system / Specifications

CHAPTER EIGHT / ELECTRICAL SYSTEM
Charging system / Alternator / Voltage rectifier / Ignition systems / Hall transmitter unit / Ignition control unit / Ignition coils / Spark plug secondary wires / Starting system / Starter / Starter relay / Lighting system / Switches / Electrical connectors / Instrument cluster / Relays / Horn / Fuses / Chassis wiring harness / Wiring diagrams / Specifications

CHAPTER NINE / COOLING SYSTEM
Hoses and clamps / Pressure check / Radiator / Cooling fan / Thermostat / Connector pipe / Coolant recovery tank / Specifications

CHAPTER TEN / FRONT SUSPENSION AND STEERING
Wheel and hub / Handlebar / Steering head and stem / Steering head bearing race / Front fork / Specifications

CHAPTER ELEVEN / REAR SUSPENSION AND FINAL DRIVE
Wheel and hub / Shock absorber / Swing arm and drive shaft / Final drive unit / Pinion gear-to-ring gear adjustment / Taper roller bearing preload / Specifications

CHAPTER TWELVE / BRAKES
Brake pad / Master cylinder / Front rear caliper / Disc brake / Rear brake pad / Brake hose and line non-ABS models / ABS brake system / Brake hose and line ABS models / Pressure modulator and mounting bracket / Trigger sensor / Bleeding the system / Rear brake pedal / Specifications

CHAPTER THIRTEEN / FRAME AND BODY
Kickstand (sidestand) / Center stand / Footpegs / Safety bar / Locks / Handlebar / Fenders / License plate bracket / Seat / Rear cowl and storage tray / Body panels (K75 models) / Body panels (K100 models) / Luggage and rack / Optional equipment / Windshield cleaning / Specifications

CHAPTER FOURTEEN / SUPPLEMENT
Engine starting and performance / Routine maintenance checks / Service intervals / Tires and wheels / Battery / Periodic lubrication / Periodic maintenance / Tune-up (K100RS [1991-1992], K1, K1100LT-ABS, K1100RSA) / Engine removal and installation (4-valve cylinder head) 
Throttle housing and intake manifold / Air flow meter / Fuel injection system (Motronic) / Fuel injection system adjustments / Air filter case / Fuel pump / Exhaust system / Ignition system (K100RS [1991-1992], K1 and all K1100 models) / Ignition control unit (Motronic) / Ignition coils / Ignition output stage 
Headlight / Turn signals (K1 models) / Radiator / Coolant recovery system / Hoses 
Front wheel (3-spoke type) / front hub / Tire balancing (3-spoke wheel) / handlebar / Steering dampener (K1 and K1100RS) / Steering head and stem (K75, K75Rt and K75S0 / Front Fork (K75, K75RT, K75S, 1992-on) / Front fork (K1, K100RS, K100LT) / Front fork (K1100LT, K1100RS) 
Rear wheel / Swing arm and shaft drive (K1, K100RS [1991-1992], K1100LT and K1100RSA [1992-on]) / Final drive unit (K1, K100RS [1991-1992], K1100LT and K100RS) / Pinion gear-to-ring gear adjustment / Tapered roller bearing preload 
Front brake pad replacement (dual piston caliper) / Front master cylinder / Front caliper (dual piston caliper) / Rear master cylinder (KL75 [ 1993-on], K100 [1990-1992, K1, K1100 models) / Brake hose and line replacement (non-ABS models) / Brake disc (K1, K100RS, K1100LT, L100RSA) / ABS brake system / Pressure modulator and mounting bracket 
Footpegs (K1) / Fenders / Seat / Rear cowl / Body panels (K75RT / Body panels (K1) / Body panels (K1100LT) / Body panels (K1100RS) / Luggage and rack / Specifications

INDEX

WIRING DIAGRAMS

Clymer Manuals BMW K1 Manual
Clymer Manuals BMW K100LT Manual
Clymer Manuals BMW K100LT-ABS Manual
Clymer Manuals BMW K100RS Manual
Clymer Manuals BMW K100RS-ABS Manual
Clymer Manuals BMW K100RT Manual
Clymer Manuals BMW K1100LT-ABS Manual
Clymer Manuals BMW K1100RSA Manual
Clymer Manuals BMW K75 Manual
Clymer Manuals BMW K75 LOW SEAT Manual
Clymer Manuals BMW K75C Manual
Clymer Manuals BMW K75RT Manual
Clymer Manuals BMW K75S Manual
Clymer Manuals BMW K75T Manual

BMW K1 (1990-1993)
BMW K100LT (1987-1988)
BMW K100LT-ABS (1989-1991)
BMW K100RS (1985-1988)
BMW K100RS-ABS (1988-1989, 1991-1992)
BMW K100RT (1985-1988)
BMW K1100LT-ABS (1993-1997)
BMW K1100RSA (1993-1997)
BMW K75 (1989-1995)
BMW K75 LOW SEAT (1989)
BMW K75C (1986-1988)
BMW K75RT (1990-1995)
BMW K75S (1987-1988, 1990-1995)
BMW K75T (1986-1987

BMW K1 (1990-1993)
BMW K100LT (1987-1988)
BMW K100LT-ABS (1989-1991)
BMW K100RS (1985-1988)
BMW K100RS-ABS (1988-1989, 1991-1992)
BMW K100RT (1985-1988)
BMW K1100LT-ABS (1993-1997)
BMW K1100RSA (1993-1997)
BMW K75 (1989-1995)
BMW K75 LOW SEAT (1989)
BMW K75C (1986-1988)
BMW K75RT (1990-1995)
BMW K75S (1987-1988, 1990-1995)
BMW K75T (1986-1987 - 1997)