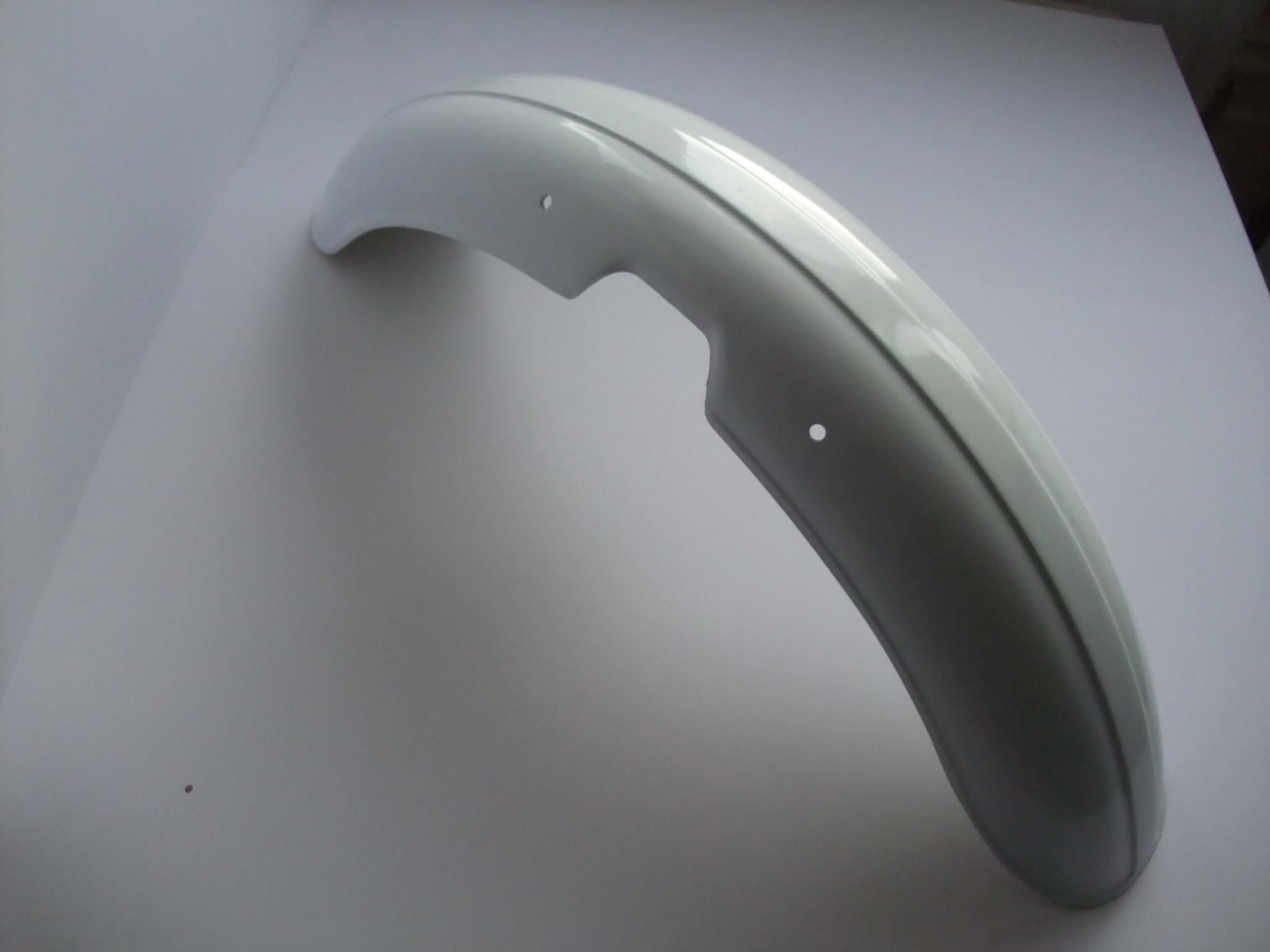 BMW /6 & /7 Series (73-84) replica GRP front mudguard
FlatRacer BMW Airhead Boxer /6 & /7 (73-84) GRP replica front mudguard
GRP (fibreglass) front mudguard, accurate replica of the original front mudguard used on the BMW /6 (73-76) and the later /7 Series (76-84). 
It will fit all the BMW /6 and /7 Series bikes made between 1973 to 1984 including the BMW R60/75 & 90/6, R90S, R100S, R100 RS, R100 RT, R100 CS, R100 T, R100/7, BMW R80/7, R75/7, R60/7 etc.
Made of high quality fibreglass (GRP), sturdy and strong with glossy white finish. Much sturdier than the original mudguard, which was made of an injection moulded mix of fibreglass and plaster like material, very easily damaged and cracked.
Pre-drilled for fitting  accuracy, it includes the required stainless steel fasteners (including dome nuts) and rubber washers.
We trial fit all of our mudguards, using the original pressed steel mudguard holders, to ensure accuracy of fit.
Carefully finished in polished high gloss white gel coat, with a very smooth surface with special attention given to its edges. Due to its high quality of construction and finish, minimal preparation work (de-greasing and light sanding) is required if you wish to paint it.
The mudguard is pre-trimmed, pre-dilled (carefully countersunk) and ready to fit. This sale also includes all the required stainless steel fasteners including some nice s/s dome nuts and thick rubber washers
Outstanding period look, sturdiness, quality and durability.
Fits all the BMW /6 & /7 Series models, made between 1973 and 1984. Please not that this kit will NOT fit the later Monolever and Paralever models such as GS. R100R and Mystic models.
IMPORTANT: 
1 - This mudguard is designed to be fitted to the original stainless steel (73-80) and painted steel (81-84) fork bridges. Please retain it as it is an integral parts of the forks, greatly contributing to their torsional rigidity.
2 - Easiest way to fit would be removing the front wheel and sliding the mudguard from underneath which is also the way to remove without damages the original mudguard.
3 - Our mudguard is fitted to the original mudguard holder/fork bridge using the supplied s/s fasteners and rubber washers. 
4 - Our FR BMW /6 & /7 short front mudguard is based on an original BMW fender. Due to the very nature of fibreglass, their is a small amount of shrinkage of dimensions, especially concave shapes as this. In order to fit our short front mudguard it may be required to slightly force it in place, on the original mudguard holder, until all holes align and you can slide in the supplied bolts. This is best accomplished on a table, with a soft cloth underneath the upside down mudguard and gently but firmly lower the holder in place.
We can also supply one of our FR BMW Airhead Boxer tubular steel fork brace kits pre-fitted with this mudguard (or a slightly narrower version). Similar short GRP mudguard also available for the later Monolever (85 on) Series, please see our other listings.